Personnel development at VULKAN: The Hackforth Academy
The Hackforth Academy is the internal training facility of the VULKAN Group at the group's headquarters in Herne, Germany. The foundation of the academy stems from the clear awareness that the personal and professional competence of our employees is the prerequisite for excellent products and services. This results in high customer satisfaction, the corresponding competitiveness and the sustainable success of the VULKAN Group.
Our employees are one of the most important success factors for us. Because without their committed and qualified contribution our company's success would not be possible. In our daily work we always orientate ourselves objectively to the tasks in front of us - this with a view to customer-oriented solutions which meet the required technical and commercial demands of our customers worldwide.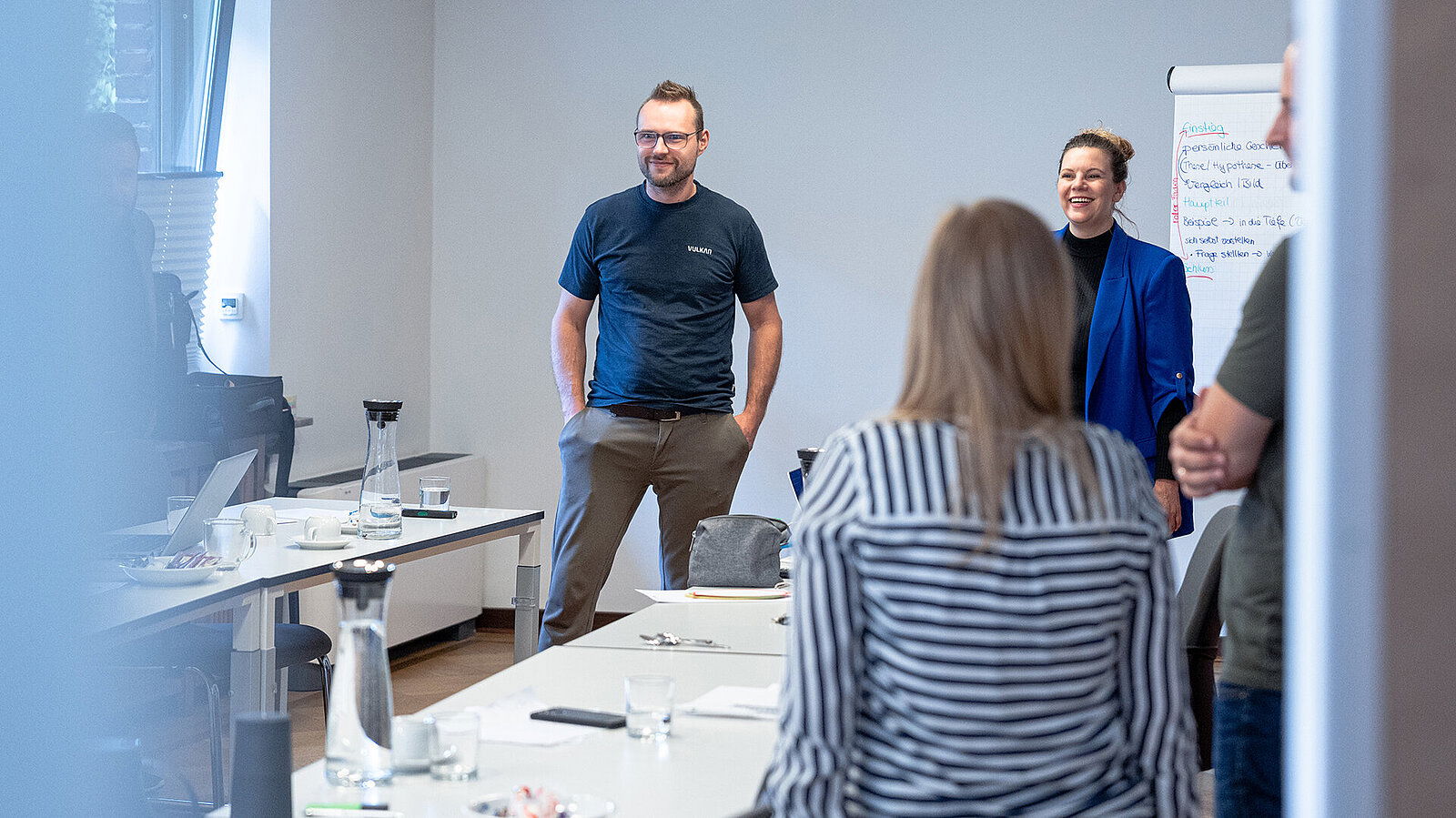 Knowledge transfer as an integral part of our corporate culture
To this end, we have access to the extensive knowledge of our employees at our headquarters in Herne and at our subsidiaries and agencies around the world. Sharing this knowledge internally and promoting and developing employees is an important part of our corporate culture. In addition to internal trainers, we also bring in external expertise when required, for example for soft skills training on leadership, rhetoric and similar topics.
This claim is put into practice in the company's own Hackforth Academy, which is located in the former home of the Hackforth family on the premises of the group's headquarters in Herne and comprises three dedicated training rooms
The Hackforth Academy develops concepts for personnel development and implements them in cooperation with the business units and specialist departments. The focus is on the efficient transfer of specialist knowledge and experience within the company by our internal trainers.
Further training at Hackforth Academy
The versatile range of further training includes, for example, Microsoft Office training, soft skill training such as rhetoric or time and self-management seminars as well as our own train-the-trainer series and product training. Depending on the topic, we use a mix of e-learning, webinars and classroom training. With various personnel development measures, standardized further training offers as well as customized qualification measures for individual specialist areas, we support the implementation of the corporate strategy and open up professional and personal perspectives for all employees at VULKAN.
In addition, the premises of the Hackforth Academy are available to employees by arrangement for team workshops, conferences and other events related to knowledge transfer.